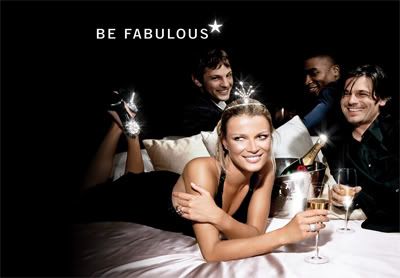 Must I say it again? I absolutely ADORE champagne. Not only does its bubbles give you that instant lift, it promises a most definite delight in sipping delicately from the sleek,
elegant champagne flute. Even the act of drinking it brings out glamour and much sophistication that no other drink can provide.
Its soothing pale golden color never fails to attract all but yet one sip, and unlike alcohol of other sorts, the immense lightness lingers on the tongue and can never overwhelm the drinker. Unlike vodka which attempts to grab the drinker's attention with its strong,
arresting taste and the immediate rush to your head, champagne respects and cherishes the enjoyment of the drinker, providing only the needed taste and feel. Perfect!
Ah, what a spiel. Of course, the only champagne I drink is Moet and Chandon and though its no Cristal, it is wonderful.
Talking about champagne brings to mind lovely parties and merry times, where the clink of champagne glasses and the audible hum of activity never fails to brighten up my spirits and bring me into the mood for partying.
That reminds me. For my next little soiree, I must share the love of glorious champagne to everyone else. Break out the Moet, I say!
Till next time,