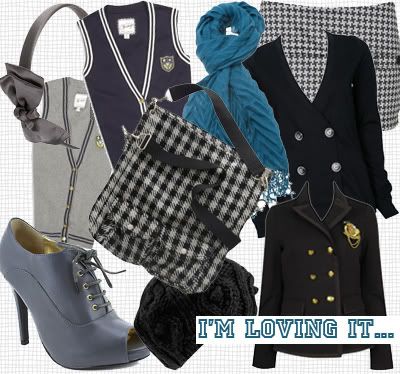 Back to school! Well, only the fashion, thank goodness.
Prim navy blazers and stripes, houndstooth and berets, all so reminiscent of a preppy school girl, not unlike the ilk of the best book of all times, Gossip Girl. I love how well those preppy blazers and that rebellious insouciance goes together, almost like summer day and bikinis, you can't do without the other.
I especially love berets thrown in together with the whole look as it gives the outfit that added chic-ness that hats are known to impart to the wearer. Not everyone can carry that off, unfortunately. How sad. My heart goes out to you.
Of course, you shouldn't go crazy and wear everything school related in one outfit, people might mistake you a school kid.
Quelle horreur!
As the old adage says, 'Less is always more'. Don't overdo it.
I have a fantastic school blazer hanging in my closet that i picked up for a song while shopping in Japan, and it does wonders for an ordinary outfit. Just throw it on a lazy (matching colors!) tank top and skirt and you can transition from laid-back sexy to preppy cool. Instant fashion-school cred.
Lovely!
Soon,