I'll need some extra pairs of eyes to aid me in my search for my newest fashion obsession. Helpful volunteers get my eternal gratitude!
For the past few weeks, a certain shoe style has been running through my head. Not a particular shoe though, mind you, but a particular style. And nope, it isn't 6-inch staggeringly high stilettoes, and neither is it a perky Liberty floral print summer espadrille, and it isn't that now ubiquitous black studded gladiators. Instead, I'm pining for a perfectly cute pair of boat shoes made out of soft calfskin leather that I'm planning to wear everywhere.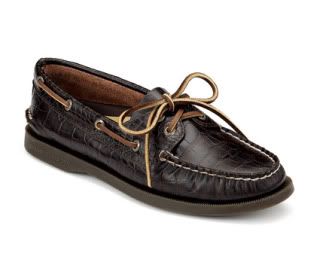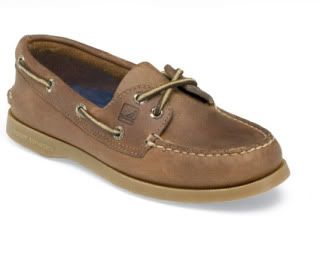 If that proves mite too difficult to locate, I promise I'll settle for one in distressed leather with gorgeous forest green panels.
But most importantly, they MUST be boatshoes. They have to have that adorable leather stringing across the top and sides of the shoe that remind me so of hardy drawstring bags that I used to love so much as a kid. What's more, I also love that it is what fashion really should be all about, comfortable yet studiously cool.
This fash-session (aka fashion obsession) started when I chanced upon an entire rack of sturdy tough Sperry Topsiders in a store and even though they were clearly for guys, I couldn't help but salivate over them. A particular pair,a rich mustard yellow one, really caught my eye. That bright cheery pair popped right out of the stack and somehow, just managed to stick itself in my head. And from then on, inexplicable really, but I fell head over heels for boatshoes.
Just thinking of how I can match boatshoes to an outfit excites me to no end, not only will the sole addition of boat shoes to any outfit give that Alexa Chung vibe which I so love, it will also let me give up on the tired ballet flats that everyone is sporting.
Off with ballet flats and on with the boat shoes!
Till next time,