It's been far too long. Don't get me wrong, I love writing, especially about fashion and even more so about up and coming trends I believe will hit it big in both the style stakes and in hearts of style-savvy girls everywhere. However, it's been really tough for me to really have time to sit down and write a great trend story. I want everything I put up here to be no less than perfect, and sometimes I really don't have the time.
But today, I made myself really sit down and write. I owed everyone that much at least.
So, enough of the chatter, I'll get down to the trend at hand.
Besides the requisite summer wear like tank tops and denim cutoffs that everyone sports, summer wear to me is all about loose, easy fit pieces that are not only chic but most importantly, keep me cool without looking just like everyone else. Personally, I adopt quite a different approach to warm weather wear. While hemlines rise and sleeves shrink in the summer for most, I resolutely do the opposite. I opt for long sleeves - rolled up of course, and bohemian gypsy skirts or light linen pants. Which brings me to our focus today - Light-washed, easy denim pieces that are soft as an old flannel shirt.
I've seen many versions of this trend, but the one that will win the hearts of many, I believe, will be the oversized denim shirt, with only a faint blue wash to reveal that it belongs to the denim category. Like a comfy old denim shirt that has been washed and rewashed so many times, this season's hottest new trend seems to be what every girl should already have lying somewhere in her wardrobe.If not, head to Topshop for the perfect worn in denim shirt, made oversized specially so you don't have to get a few sizes up. A close lookalike comes in the form of a belted version from Forever 21. Zara's Spring/Summer collection also has a few great looking ones which are on sale right now.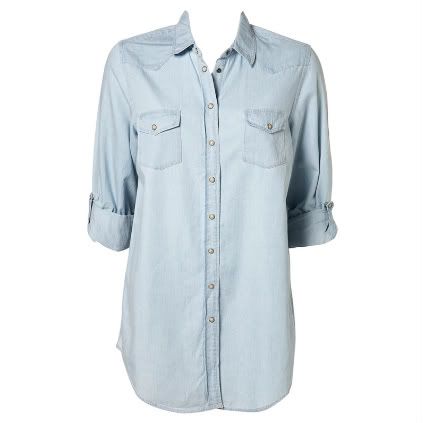 Topshop
Forever 21
Wear this with nothing else but sheerest of stockings,fierce dark booties and a bowler hat. I know I will!
XO,